"لذلك أقترح وأؤمن بشدة بما أقول وهو أن لمصلحة الإنسان في هذا العالم أن يبحث عن أهداف ومستويات أعلى وليست أدنى طيلة حياته بل أن الخير الأمثل لأي حكام وزعماء لهذا المجتمع هو أن يسعوا لترفيه ورفع مستوى شعوبهم إلى أعلى درجات السلم البشري للوجود والحياة"
كلير و. جريفز
"We are initiating action for cultural emergence in the Middle East"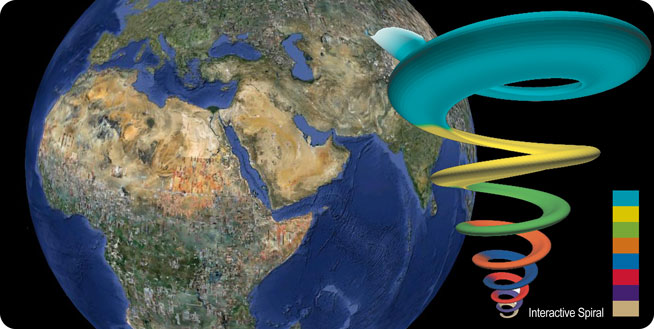 TURQUOISE Holistic MEME – starting 30 years ago
Basic theme: Experience the wholeness of existence through mind and spirit
The world is a single, dynamic organism with its own collective mind
Self is both distinct and a blended part of a larger, compassionate whole
Everything connects to everything else in ecological alignments
Energy and information permeate the Earth's total environment
Holistic, intuitive thinking and cooperative actions are to be expected
YELLOW Integrative MEME – starting 50 years ago
Basic theme: Live fully and responsibly as what you are and learn to become
Life is a kaleidoscope of natural hierarchies, systems, and forms
The magnificence of existence is valued over material possessions
Flexibility, spontaneity, and functionality have the highest priority
Differences can be integrated into interdependent, natural flows
Understands that chaos and change are natural
GREEN Communitarian/Egalitarian MEME - starting 150 years ago
Basic theme: Seek peace within the inner self and explore, with others, the caring dimensions of community
The human spirit must be freed from greed, dogma, and divisiveness
Feelings, sensitivity, and caring supersede cold rationality
Spreads the Earth's resources and opportunities equally among all
Reaches decisions through reconciliation and consensus processes
Refreshes spirituality, brings harmony, and enriches human development
ORANGE Achievist/Strategic MEME – starting 300 years ago
Basic theme: Act in your own self-interest by playing the game to win
Change and advancement are inherent within the scheme of things
Progresses by learning nature's secrets and seeking out best solutions
Manipulates Earth's resources to create and spread the abundant good life
Optimistic, risk-taking, and self-reliant people deserve success
Societies prosper through strategy, technology, and competitiveness
BLUE Purposeful/Authoritarian MEME – starting 5,000 years ago
Basic theme: Life has meaning, direction, and purpose with predetermined outcomes
One sacrifices self to the transcendent Cause, Truth, or righteous Pathway
The Order enforces a code of conduct based on eternal, absolute principles
Righteous living produces stability now and guarantees future reward
Impulsivity is controlled through guilt; everybody has their moral place
Laws, regulations, and discipline build character and moral fiber
RED Impulsive/Egocentric MEME – starting 10,000 years ago
Basic theme: Be what you are and do what you want, regardless
The world is a jungle full of threats and predators
Breaks free from any domination or constraint to please self as self desires
Stands tall, expects attention, demands respect, and calls the shots
Enjoys self to the fullest right now without guilt or remorse
Conquers, out-foxes, and dominates other aggressive characters
PURPLE Magical/Animistic MEME – starting 50,000 years ago
Basic theme: Keep the spirits happy and tribe's nest warm and safe
Obeys the desires of the spirit being and mystical signs
Shows allegiance to chief, elders, ancestors, and the clan
Individual subsumed in group
Preserves sacred objects, places, events, and memories
Observes rites of passage, seasonal cycles, and tribal customs
BEIGE Instinctive/Survivalistic MEME – starting 100,000 years ago
Basic theme: Do what you must just to stay alive
Uses instincts and habits just to survive
Distinct self is barely awakened or sustained
Food, water, warmth, sex, and safety have priority
Forms into survival bands to perpetuate life
Lives "off the land" much as other animals

FUNCTIONAL DEMOCRACY
A New Paradigm on Geopolitics in the Middle East
Read White Paper on Functional Democracy

The Middle East Now
The Middle East is at a pivotal time in its history, a cross roads in its evolution. Old ways no longer seem to be working and new ways have yet to fully emerge.
Function of CHE-ME
The Primary function of the Center For Human Emergence-Middle East is to create the new models that have in them the complexity that makes the older systems obsolete. We identify the underlying value-systems codes that manifest in surface level behavior, thinking and beliefs. In doing so, we can construct methodologies and processes that are culturally appropriate and that will align and integrate all the activities to support the emergence of what is next for the region.

Integral Framework/Our Methodologies
Spiral Dynamics integral is a bio-psycho-social map of living human systems that focuses on natural designs and offers whole new integral solutions that are ecological, systemic, and life-affirming. In effect the theory describes and makes sense of the enormous complexity of human existence, and then shows how to craft elegant, systemic problem-solutions that meet people and address situations where they are.
This powerful conceptual system has been field-tested in some of the most complex environments on the planet, from inner-city Chicago to racially plagued South Africa; and from large scale projects in Palestine and the Netherlands to reforming the educational system in Mexico.
MeshWORKS in Syria
Project SHAMS-Bosra, Syria
A partnership of the EU with local authorities in the Mediterranean area. The project SHAMS is being co-sponsored by the European Commission in the framework of the Med-Pact program.
The Center for Human Emergence- Middle East partnered with the project to offer a MeshWORKS perspective for Bosra including an assessment of the value-systems in Bosra and offering culturally-fit training in Spiral Dynamics integral.
Build Palestine Initiative
In 2005, together with Palestinian partners, Dr. Beck and Elza Maalouf launched Build Palestine Initiative.
Using his ground breaking experience in South Africa and his practical knowledge in dealing with the different mindsets in cultures, Dr. Don Beck offered a fresh start to the Palestinians and they responded with an overwhelming enthusiasm. Dr. Beck's work in South Africa with Mandela, De Klerk, Chief Minister Buthelezi and community leaders sparked the Palestinians' initial attraction to this work. Now that they have a deeper grasp of the Spiral Dynamics integral approach (SDi link) they believe that this conceptual framework will support their efforts to build a country for the many generations of Palestinians to come.

Arab Style Democracy: Building the Post Dictatorship Institutions
"The insight here is that one style of democracy does not fit all. The Myth that Western democracy if given the chance, can spread throughout the Middle East has proven to be a false doctrine."

Dr. Jean Houston, Human Potential Movement, Founding Member & CHE-ME Project Advisor.
"Arab women will no doubt change the world"

Dr. Don E. Beck Complex Systems Strategist Senior Advisor, CHE-ME
"Revolutions do not cause change; they confirm the change which has already happened. Typically, this happens more to societies which are already changing, as the raised expectations put pressure on existing leaders and structures, like the geologic tectonic shifts that will cascade to the surface as earthquakes."

Prof. Clare W. Graves, Pioneer, Large-scale Psychology
"The pathway from tribalism to democracy has to pass through autocracy."
Nation Building Convention 02-02-2008
Palestine Emergence - In the Words of one of its Enlightened Leaders.
Nafiz Al-Rifaie, a prominent leader in Fatah Third Generation, addressed the attendees of the Nation Building Movement.


Emergence in Palestine and the Arab World.
Elza Maalouf spoke to nearly 700 Palestinian community leaders from all over the West Bank addressing societal emergence in Palestine and the Arab world.


Palestinian Engineer Presents Ground-Breaking Proposals
Engineer Nasra Zgheil presented ground-breaking proposals in the name of her group "The Promising future" at the Nation Building Conference, which was mainly formed by professional women from Salfit and Hebron.


A 10-year-old Palestinian Girl Thinks Big
This video of Balkis Rifaie, a 10 year old Palestinian girl, sums up the "Future Pull" (forward-looking future orientation) of the Palestinian historic Nation-Building event in Bethlehem.