"لذلك أقترح وأؤمن بشدة بما أقول وهو أن لمصلحة الإنسان في هذا العالم أن يبحث عن أهداف ومستويات أعلى وليست أدنى طيلة حياته بل أن الخير الأمثل لأي حكام وزعماء لهذا المجتمع هو أن يسعوا لترفيه ورفع مستوى شعوبهم إلى أعلى درجات السلم البشري للوجود والحياة"
كلير و. جريفز
MeshWORKS in Syria

A Cultural Vision: Introducing Integral Thinking, Design and Application to Syria
Project SHAMS
(Sustainable human activities in Mediterranean urban systems)
A partnership of the EU with local authorities in the Mediterranean area. The project SHAMS is being co-financed by the European Commission in the framework of the Med-Pact program.
The Center for Human Emergence- Middle East partnered with the project to offer a MeshWORKS perspective for Bosra, which including an assessment of the value-systems in Bosra and offered culturally-fit training in Spiral Dynamics integral (SDi).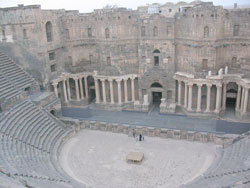 Outline:
The Project
Integral Assessment and Methodologies presented in Syria- Natural Design
Conclusion
I. The Project-
I was asked to consult on a sub-project of SHAMS in Bosra-Syria. Bosra is most famous for its well-preserved freestanding Roman amphitheatre - the most complete in the world according to some sources.
Participants in the Mission:
| | |
| --- | --- |
| Bettina Geiken   | Coordination SHAMS, IBGE Bruxelles |
| Anne Caspari | SEA teamleader, T6 Ecosystems srl, as expert for the City of Rome |
| Elza Maalouf | CEO Centre for Human Emergence-Middle East |
From Syria :  Representatives from the Municipality of Bosra, Ministry of Culture (Department of Antiquities), Ministry of Local Administration and Environment , Ministry of Tourism, United Cities and Local Governments.  
The Objective:
1. Development of a scenario-based strategic development plan for Bosra using the European methodology of the Strategic Environmental Assessment (SEA) and the Integral approach
2.  Launch a local development office in Bosra
3. Establish a Field Laboratory for restoration and site management and Tourist pilot project
4.Offer ongoing Training and Capacity building -training sessions and on the job.
The Centre For Human Emergence-Mideast Role: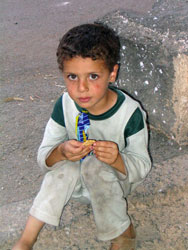 The Strategic Environmental Assessment is a powerful decision-making tool with clear technical instructions for application and intervention for strategic and sustainable development. However, more often than none, in a SEA process certain decisive factors are not so clearly taken into account, such as cultural and individual value systems, resistance to change and questions of leadership. Therefore the SHAMS team suggested to start the SEA process with an introduction to Spiral Dynamics integral (SDi) framework that makes sense of: WHY do people respond to different motivations? WHY and HOW do values affect decision making? HOW to lead Change to achieve the desired results? The SDi model, is a practical, and ready-to-apply framework, that provides a Meta-position on how organizations and individuals systemically differ in their cultural embedded patterns. This will help select the adequate intervention for supporting and sustaining development.
II. Integral Assessment and Methodologies- Natural Design Formula
Natural Design frames the right questions before giving solutions and answers: questions about people, motivation, communication and learning.  Instead of asking the typical questions; "how do we manage people in a project?" we ask "what is the nature of these people to be managed? What makes their Life Conditions unique? What systems of managing, training, or motivating will be most congruent with them and the work to be done at this time?
In this case: The EU with its well developed methodologies, complex value-systems (Orange-Green) is working in an Arab country, Syria that is developing at a slower pace than any European country, due to many internal and external challenges. The Value-systems in Syria, and in particular Bosra, are steeped in tribal traditions (Purple) led by power driven individuals (Red) who are trying to coordinate between government institutions and rules (Blue) and the traditions prevalent in the area. Of course, on an individual level many are capable of highly complex thinking.
Assessment and Design:  In order to assess the life conditions and value-systems in Bosra, we looked at the larger 'Holon' or Life Conditions in the Region, then in Syria and then Bosra. A Holon inside a Holon inside a Holon. Knowing the geo-political and socio-economic issues in the region and Syria in specific, as well as the major value-systems in the region, helped with the larger context of the Bosra project.  (Elza Maalouf's Report)
III. Conclusion:
"Spiral Wizardry" calls on us to step out of our own value-systems to be able to assess a project at hand and design the appropriate solutions that fit the life conditions or habitat of the people involved.
In this project, the concepts of Sustainability and Development had different meaning to the different stakeholders. The Europeans, myself and Syrian 'Orange thinkers' worked with these two concepts from a totally different perspective than some of the local leaders and citizens who were worried about poverty in the city, or corruption and nepotism. To explain the concept of Sustainability to people who are adapting to hard life conditions (poor economy, education, lack of job opportunities) we had to refer to an example that makes sense to them. "The Bosra amphitheater is a great example of sustainability. Their ancestors kept it intact for more than 2000 years by burying it in the sand and building an Ummayad fortress around it." The concept of sustainability evokes long term planning and vision. For people who are dealing with the day-to-day struggles of finding a job, or making ends meet, long term planning seems like a fantasy they can't afford to have.
In their report, Bettina Geiken and Anne Caspari explain further the tremendous importance of a Natural Design approach to such projects. (Bettina and Anne's Report)
When I asked them how they feel about their work in the Middle East, they both said that they take as much as they give, and that "there's a lot that the West can learn from the Middle East, and vice-versa…such exchange can bring so much richness to the world."